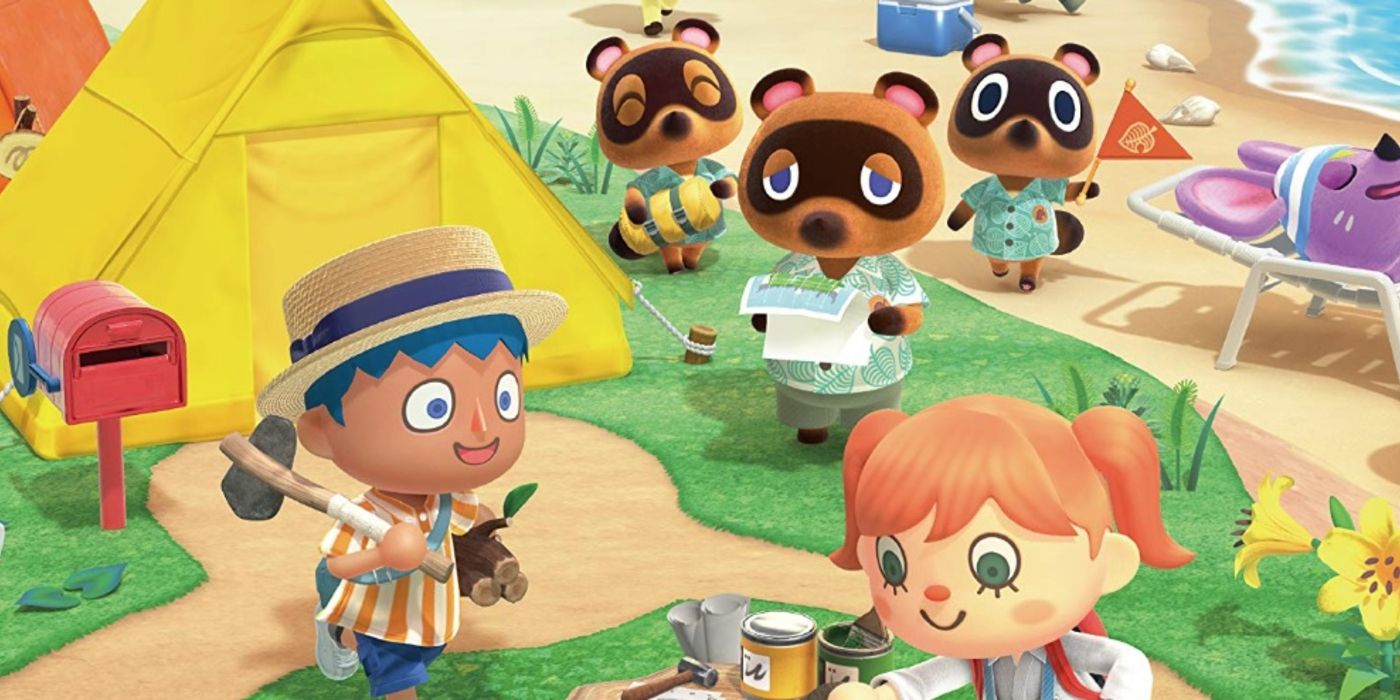 Animal Crossing: New Horizons gives players limitless options for creating custom designs, and the community has been hard at work since launch.
Animal Crossing: New Horizons has been a big hit with players, with millions of copies sold in just a couple weeks. Players have flocked to their own abandoned islands, taking a much-needed virtual vacation.
Of course,e the core design of New Horizons, like the rest of the series, encourages player freedom and imagination. Players are free to create whatever type of island they want and interact with a variety of adorable villagers. A big part of the creativity of Animal Crossing comes with the custom designs players can create. After unlocking the Able Sisters Shop players can download custom designs from other players, both for clothing and general art.
Continue scrolling to keep reading Click the button below to start this article in quick view.
Related: Animal Crossing: New Horizons Multiplayer Controversy Explained
There are already some fantastic options out there, so here are the best custom art designs for Animal Crossing: New Horizons. These designs can be used as art displays, applied as wallpapers, phone cases, and more. Of course, all credit goes to the design's respective creators.
Best Custom Player-Created Designs in Animal Crossing: New Horizons
Welcome Mat – Players need a way to give a warm welcome to anyone that visits their island, and this welcome mat is the perfect way to do it. The second half of the mat is MO-Q8P1-4WXX-KFLH.
Mew – This adorable recreation of Mew is just the perfect design to put on a wall or simply brighten up a spot in the village.
GameCube – For a little bit of Nintendo nostalgia, players can download this strikingly accurate rendition of the top of a GameCube.
Cafe Menu – If anyone's looking to create their own outdoor cafe aesthetic, a cute menu is a must.
Sheikah Slate – Considering how much players use their Nookphone, it's helpful to have a stylish design, especially if it's from one of the Switch's very best games.
Surprised Pikachu – There's nothing like a good meme, and the lovely face of Suprised Pikachu is the perfect thing to greet visitors.
Link From The Legend of Zelda – This perfect recreation of Minish Cap Link goes great on a wall, or anywhere else too.
Garrus Vakarian From Mass Effect – It's pretty much a given that Garrus is the best party member in Mass Effect, so everyone needs a portrait of him.
Sleeping Kirby – There's no Nintendo mascot cuter than Kirby, and this sleeping version is disgustingly cute.
Minecraft Grass – For anyone looking to put a little Minecraft in their Animal Crossing, this grass square will go a long way.
Squidward's Painting – Bold and Brash, somehow, describes Squidard's painting perfectly. A bit of fine art to impress visitors.
Smore – It might make someone hungry, but a giant Smore island sounds pretty cool.
Dance Dance Revolution Panel – Players can make their islands into a massive DDR game with these panels.
Shovel Knight – Take out that Shovel and player's villagers will fit right in.
Ghostbusters – Keep away any ghosts by letting them know who's boss.
Giorno Giovanna – Bring a little of that iconic Jojo style to an island.
Moogle From Final Fantasy – Moogles are one of the most iconic video game creatures out there, and they honestly fit well the Animal Crossing's aesthetic.
Jaws – A surprisingly accurate recreation of one of the most iconic movie posters of all time.
How to Find More Custom Animal Crossing Designs
While players can comb through Twitter, Reddit, and the like to find different designs, there's an easier way. The site Nook's Island has a massive database filled with hundreds of player-created designs. Players can search by name or simply browse, and even upload their own designs to the database as well. The database will surely continue to grow as time goes on, so make sure to check back later.
Animal Crossing: New Horizons is currently available on Nintendo Switch.
Next: Animal Crossing New Horizons: How To Spawn Infinite Tarantula Spiders
Mandalorian Season 2 Is Already Repeating Rise Of Skywalker Mistakes
Related TopicsAbout The Author
Hayes is a Staff Writer for Screen Rant. He's been writing and podcasting about games for over a decade, and he's a graduate of the Metropolitan State University of Denver in the Journalism program. He's been diving into RPGs ever since discovering the Final Fantasy series at a young age. You can find him on Twitter @Solfleet.
More About Hayes Madsen

Source