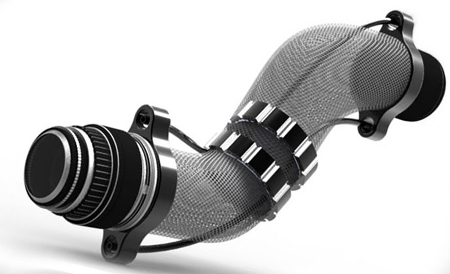 Something about futuristic products inspire the imagination; it's almost as if we extend the design to its surroundings and wonder what else could be possible. This collection of designs — from product models to real, functioning designs — are the next generation of amazing gadgets. From the folding screen Nintendo DS to 3D desktop monitors to the looking glass concept, these designs send the imagination soaring.
Be sure to let us know which are your favorites!
Mobile Music Concept
Source
This incredible concept is for a "wrist iPod" of sorts in which you wear the device around your wrist and can choose from a downloaded playlist or even live Internet radio. The idea is to also be able to customize the screen with photographs or graphics such as displayed in the image above.
Every day robotics Concept
Source
This is a concept for a robot, not just a wristwatch, that you can reshape for any type of attachment or placement. Stunning and handy.
Coonso
Source
The idea for this concept project is to help you monitor your daily consumption of energy. You can hang it on the wall or carry it with you wherever you go.
3D Desktop
Source
This concept may be my favorite. When not in use, it's a desk lamp. Need a 3D or hologram monitor? Pull down the black hologram screen to see documents pop out on your desktop.
Nintendo DS
Source
This concept, while not from Nintendo, is still a great idea that I think Nintendo should incorporate. One of the features is a hologram screen from which images pop out of the screen.
Joy
Source
This concept provides a new spin on indoor activities or sports. You scan your furniture and rooms, scan yourself to create an avatar, then plan a fitness routine, game, or activity involving the items you scanned. Joy then keeps track of your progress, body temp, etc.
Looking Glass
Source
This 2009 Reddot Design Award winner is a concept for a "looking glass" mobile device. I'd probably break it in a mili-second.
EPOS Light
Source
The EPOS Light is a concept for the world's smallest cash register. Something like this could really increase the speed of service at a restaurant, for instance, but who knows if the cost would equal the benefits.
Glass Tablet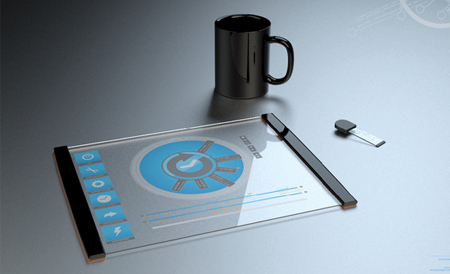 Source
Another concept design using glass technology, this one is for a tablet, such as an iPad, with touch-screen capabilities.
Universal Remote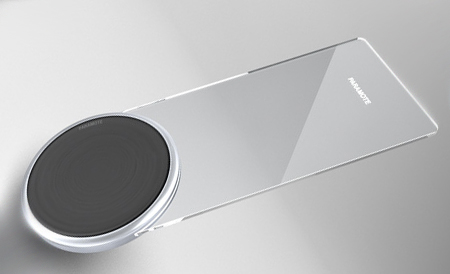 Source
This universal remote control concept would use touch-screen technology for operation; this same company also has some interesting concepts for 3D touch-screens for air conditioner programmers and light switches.
Formar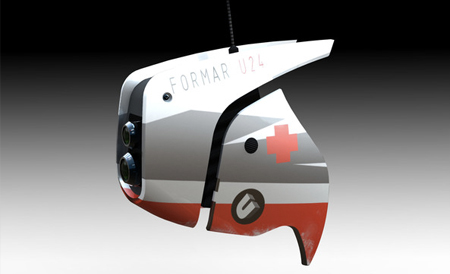 Source
I'm not sure how this concept for a floating video camera could be approved in light of privacy laws. The idea is for this sealed video camera to "float" around society, recording life in action at random, for the purpose of viewing in 100 years for future generations to study.
Luce – Solar Powered Laptop
Source
A laptop made from polycarbonate and powered by 2 solar panels? Definitely a large step toward future "green" electronics.
Submerge
Source
This interesting yacht/submarine concept involves two different modes for the craft. The Explorer Mode, shown above, allows the craft to "hover" just above the water's surface. The Submerge Mode allows the craft to travel just underneath the surface of the water, giving occupants a clear view of the aquatic life below.
Neras
Source
While yet unfinished, a prototype has been built of this lightweight model of a jet ski. The idea is for a faster, more transportable model for a new way to ride the waves.
Fiat Eye
Source
Designed on a gyroscopic balance system, this concept for a small car is designed with easier, quicker urban transportation for individuals.
Nike Arc Angels
Source
Nike has developed a new pointe shoe for dancers, which helps to reduce the stress on feet during pointework training. Named the Arc Angels, this version supposedly lasts longer than the normal 8-10 weeks of other pointe dancing shoes.
Guitar Hero 6
Source
Still in the works but soon to be a reality (we hope), this design for a new Guitar Hero game controller allows control for all electronics on the fret board. This leaves the rest of the design open for new themes for stylizing.
Audi AR5
Source
This new model for Audi is definitely futuristic in its design! The lines are quite sleek and smooth, giving it that sporty look of previous Audi models.
Tarati Touchless
Source
Although I am unclear on just how functional this "touchless" phone concept is, the idea is interesting. To dial, just pass fingers through the "windows" for a phone that requires no touch at all to operate.
The Blackberry Urraco
Source
Sadly, this amazingly forward-thinking style for Blackberry never came to fruition. At the time, the company decided to stick to its original designs, but it's not really clear why. This concept looks sleek enough to compete with the iPhone!
Ecco
Source
This concept is basically a mobile home for the rich and famous. Not your typical RV design, this one is electric, wind resistant, and allows for much wider view while driving.
Tactile Keyboard
Source
With a unique look, this wooden version of a computer keyboard is sure to turn heads. The texture on the keys supposedly makes for a more tactile experience while typing, but I'm wondering if it would only create some nasty callusses?
Pebble Key port
Source
For those who really like organization or those who hate carrying around a bulky keychain, this "key fob" of sorts allows for a more convenient way to carry keys. Just slide out which one you need at the time to avoid juggling through your load of keys. Now this is one I'd use!
Google Glasses
Source
These are those glasses that you see in all of the futuristic movies…you know, the ones that allow you to see different reports while driving, walking, eating a meal. Google's version of these glasses would allow wearers to see weather reports, news article, and more.
Flume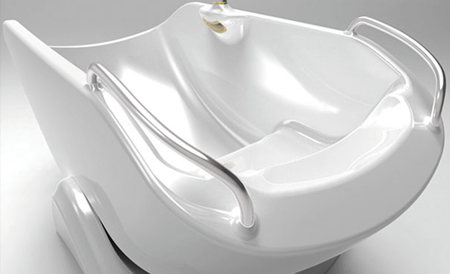 Source
I love this! It's a bathtub that tilts to allow easier access for wheelchair-bound people. How convenient!
Smart Garden
Source
Digital gardening? Yes, I'd definitely use this for my vegetable garden. The image above is of the digital stakes you place next to plants. This transmits the plant's data to your computer so that you can see just what your plant needs.
All.Round SLR
Source
This is a new design for a much more portable, lightweight SLR camera. The best part? You can bend it in any direction for easier shooting.
Pixel Perfect
Source
This is a digitalized hour glass concept design. If you want to see the timer in numbers, just click the button to switch modes.
08 Radio
Source
Just slide the scale to find the radio station you need! Seems like a cool idea but also one that could be a bit annoying if you cannot slide it "just so."